https://fuelcellsworks.com/news/hyundai-spains-new-campaign-to-showcase-nexo-fuel-cell-technology/
An FCEV uses hydrogen gas as a fuel, stored under pressure in a compact, strong but lightweight tank. At the heart of an FCEV is a fuel cell system which includes the fuel cell stack. The fuel cell stack is a layered arrangement of many individual fuel cells. The hydrogen and ambient air (containing oxygen) are fed respectively into the anode (negative) and cathode (positive). At the anode, the hydrogen molecules release electrons, which travel to the cathode, creating an electrical current.
The hydrogen ions, created when the electrons are released, travel by a different route to the cathode, where they combine with oxygen and the released electrons to form water.
In an FCEV, the power generated by the fuel cell stack is used to drive the FCEV's electric motor, with additional power supplied when needed from a hybrid battery. This battery is also used to store additional short-term energy generated in FCEVs equipped with regenerative braking.
Fuel cell electric technology explained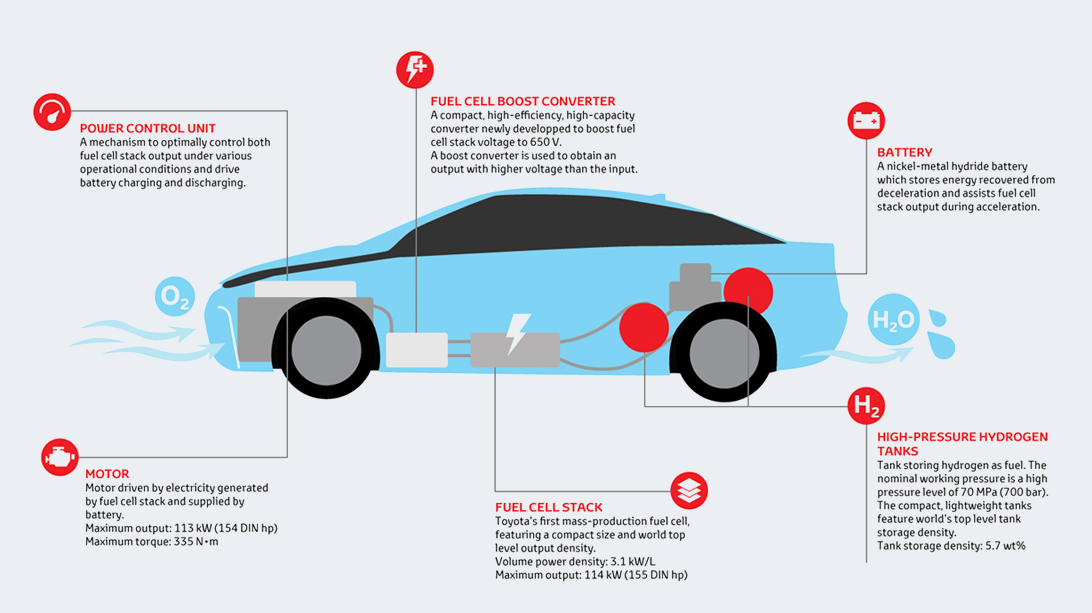 https://www.toyota.co.uk/world-of-toyota/environment/fuel-cell-vehicle
A plentiful source of cleaner energy
Hundreds of FCEVs are currently operating in the UK, providing safe, clean and sustainable transport, in a variety of end-use applications.