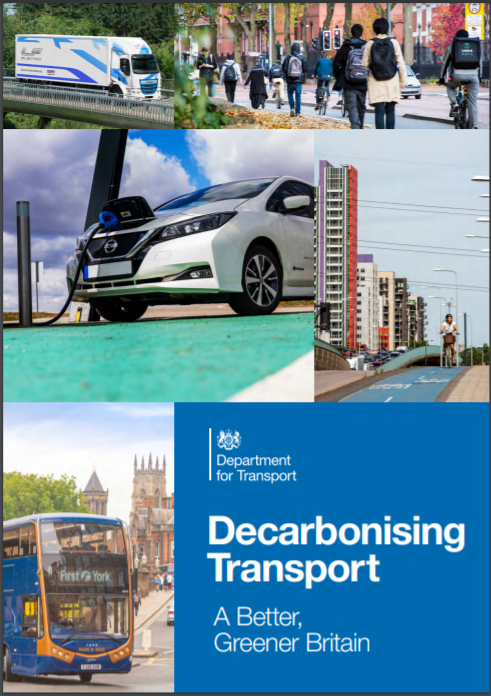 UK H2Mobility's response to the publication of the UK Government's Transport Decarbonisation Strategy
UK H2Mobility Consortium welcomes yesterday's publication of the Transport Decarbonisation Plan and its ambition to decarbonise the UK's transport sector in line with the UK's 2050 net zero commitment. As highlighted by the Plan, the transport sector is the backbone of our society, but its reform is critical to a more sustainable future and technology is available today to accelerate this journey. One of the greatest challenges the sector faces is the rapid decarbonisation of those transport modes that are harder to electrify, such as high utilisation and heavy-duty road transport, aviation and maritime. In these sectors, hydrogen technologies have a major role to play in achieving government targets, creating jobs, and improving air quality.
We welcome the acknowledgement within the Transport Decarbonisation Plan of the role that hydrogen is playing in and can increasingly play in decarbonising the transport sector. We are pleased to see measures which will develop the business case for hydrogen into a wider range of mobility sectors in future, such as increasing the Renewable Transport Fuels Obligation (RTFO), including maritime in the RTFO, and a consultation on the Bus Service Operators Grant.
However, the strategy needs to go further to provide clear and immediate action on a number of hydrogen transport sector that can begin contributing to decarbonisation now. Hydrogen cars, vans, trucks and trains are all available across the world today, but there is no clear and specific policy support to create UK products or help bring these to the UK. The UK H2Mobility consortium is keen to support government in developing these measures and urgently calls on the government to provide more clarity on this and hope that subsequent documents and the Hydrogen Strategy will provide further information on these issues.